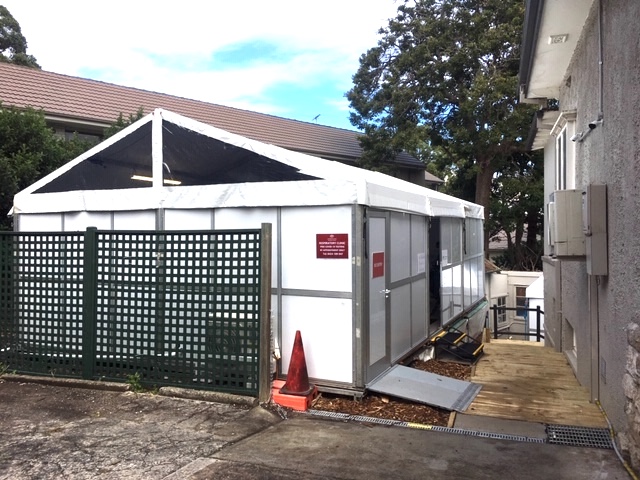 132B Pacific Highway Roseville – White Tent down Laneway
---
FREE COVID Testing for of ALL AGES including newborns. NO referral required. Rapid Testing & Results.
OPENING HOURS:
MON – FRI: 7:30am – 4:30pm
SAT: 7:30am – 1pm
Respiratory Clinic is closed December 24-27 & December 31-January 2 inclusive
By appointment only
FREE clinic to assess patients with minor cold and flu symptoms and COVID-19 testing
BOOKINGS:
Either Call/Text/SMS for a appointment OR go on-line and select an appointment time yourself. Please note we ONLY take bookings on the day or one day in advance.
For Telephone Appointment Bookings:
Call/Text/SMS your official name & preferred time: 0458 604 096
For On-line Appointment Bookings:
On-line Appointment Booking for Tuesday 7 December
On-line Appointment Booking for Wednesday 8 December
Complete the mandatory form with your official (medicare/passport) name only ONCE.
Do NOT complete the form if you have been to our clinic before.
First Visit – Respiratory Clinic Registration Form
---
DO NOT QUEUE UP & WAIT IN THE COVID-19 VACCINE LINE!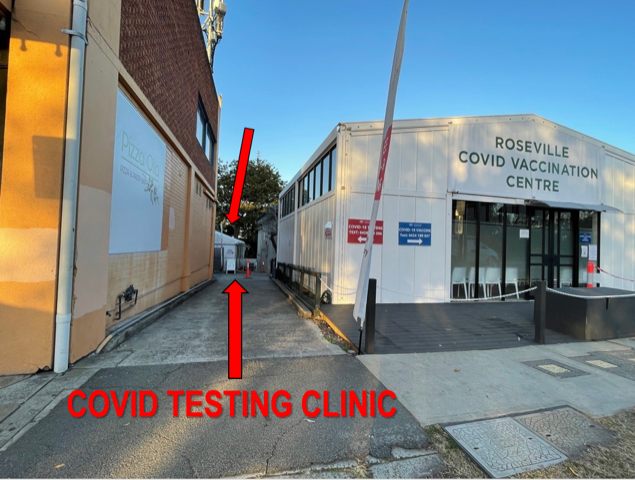 Walk down the laneway to the Respiratory & COVID Testing Clinic.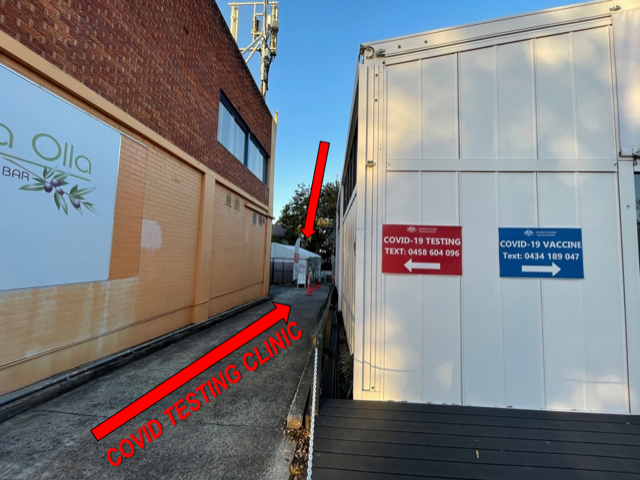 The Testing Clinic is located in a white marquee behind the Vaccine Clinic.
We generally do NOT have a line/queue.
---
---
For information on location and parking:
Please note the clinic's waiting area is located at the back of the main centre in a white marquee. When facing the Rosecentre, please walk down the Left hand side driveway and timber walkway to the back of the centre and wait in the designated waiting area. There are only limited on-site parking spaces available for the clinic and we request all patients who park on-site to leave immediately after completion of their assessment so that they do not inconvenience others.
---
FAQ – Frequently asked questions?
RESULTS: All COVID-19 swabs are processed by Laverty Pathology and will text your results within 24 hours. If you have any queries about your results please contact Laverty Pathology on 133 936
SWABS: All swabs are performed by experienced doctors or nurses trained to minimise discomfort
Only complete the ONLINE FORM once per person. For future bookings you do NOT need to complete the form again. You do NOT need to print this form. Please complete this form carefully as it automatically generates your pathology swab request form. If you enter incorrect details (e.g. DOB, mobile) this will delay your results.
NO WAITING: If your online form has been completed prior to arrival you will be seen promptly.
NO REFERRAL REQUIRED – the online form has a drop titled "referral" however this refers to where you heard about the clinic
We test patients of ALL AGES including newborn babies
This is a FREE clinic
There are no on-site toilet facilities
BEST PARKING is on the Pacific Highway and then walk to clinic. Please note the clearway signs
---
When to call triple zero (000)
If the person needing an appointment has any of these symptoms:
significantly faster and difficultly breathing

pain on breathing

significantly faster and difficultly breathing

pain on breathing

confusion

skin feels unusually cold and sweaty, patchy discolouration or pale skin

central or crushing chest pain

unconsciousness or suffering a seizure (fit)

difficulty breathing or turning blue

badly bleeding

victim of a severe accident
Then call triple zero (000) and ask for an ambulance.
People who meet any of the following criteria are encouraged to book a Telehealth appointment with their regular GP instead: over 70, or over 50 and identifies as being of Aboriginal or Torres Strait Islander background, or has a long term health condition, or pregnant or a parent of a child under 12 months. If Telehealth is not possible for you, consider booking one of the appointment times at this respiratory clinic.